December 16, 2009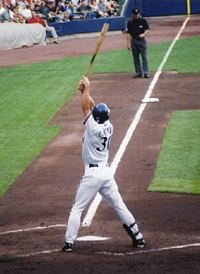 The Cincinnati Reds narrowly avoided making another minor roster mistake this week when Craig Counsell signed with the Milwaukee Brewers.
Counsell signed a 1-year, $2.1 million deal to serve as the Brewer's utility infielder again. He had a productive 2009 season as a backup, getting on base almost 36% of the time. Apparently, he reduced the obnoxiousness of his batting stance, too. No longer did he reach to the sky as if in vain attempts to over-compensate for shortcomings.
The Reds had expressed interest in Counsell, but I, for one, am happy that he stayed away from the Queen City. My guiding hope for the Reds in this off-season is that they do nothing. Absolutely nothing. First, they're less likely to make mistakes *cough*Willy Taveras*cough*. And second, they have a ton of young, talented players. The best way to overcome Dusty Baker's hardcore veteran fetish is to not give him any. And free agents are generally veterany.
We'll see if it's a good deal for the Brewers. It probably will be, considering he's a backup and it's only for one year. I do know that it would have been a disaster for the Reds. So for that, thank you, Walt Jocketty.