December 29, 2009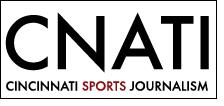 Thanks to the post on Redleg Nation, I discovered that C. Trent is ringing a bell next to a black kettle painted to look like a baseball to fund his trip to spring training in Arizona, where he'll report on the Reds on behalf of his independent sports network, CNATI.
You can check out his request here, though the mechanism for actually contributing looks like it won't be available until later today.
Personally, I'm planning to go to spring training myself this year, if we've recovered from selling our house by then. I may be putting out a black kettle myself with as expensive as it's turning out to be.