April 18, 2012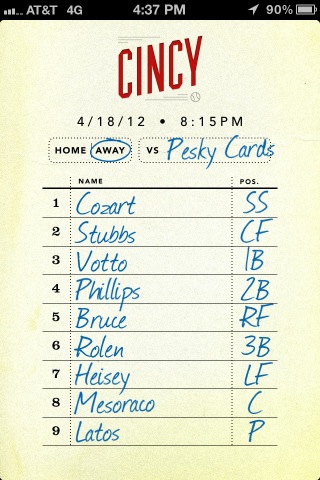 Notice that Scott "Still hasn't quite gotten" Rolen–he of the .179 OBP–has been replaced in the clean-up spot tonight.
Instead, playing the role of Joey-Votto-shield will be…Brandon Phillips? He of the .231 OBP and ouchie hamstring? That's sure to put the fear into 'em.
Replacing Phillips in the lead-off spot is Zack Cozart, which is a move I can entirely get behind. Baker can occasionally *do* sensible things; he just can't ever *say* them. Hopefully the stress doesn't get to young Cozart. It can be a lot of pressure to be the first guy left on base.
Mat Latos takes the mound for the Reds tonight, looking to bring down that 5.59 ERA. While that number certainly belies the skill of Mat Latos (but not the skill of Matt Belisle), it occurs to me that at this point in the season it's pretty impressive that it's almost the highest ERA that the Reds' pitchers have. Ah, I remember those gaudy Eric Milton days, back when triple digit ERAs to start the season would only cost you a nickel. Nowadays, pitchers can't even afford both Ts for their names. It's a crying shame, I tell you!
Can you tell I've just woken up from a nap? The verbal meandering is getting entirely out of hand. And so is the Cardinals' early season hot streak. Let's see what our Cincinnati boys can do about that tonight.