May 31, 2005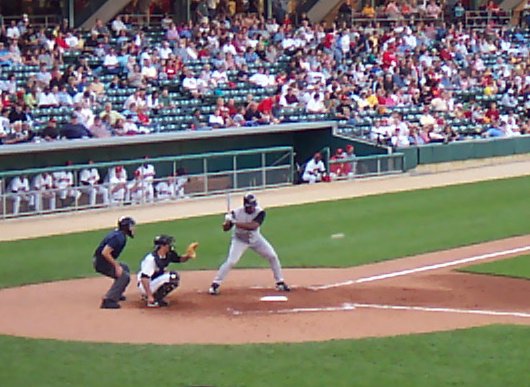 Wily Mo Peña watches a pitch go by. Unfortunately, he did a lot of that last night.
Though I've lived within two hours of Victory Field for over fifteen years, last night was the first Indianapolis Indians' game I've ever attended. In my defense, they're now a Pittsburgh affiliate. How am I supposed to get behind that?
In any event, it was a good time. Of course we saw Wily Mo who, by the way, is approximately twice the size of any other individual person on the team, but we also got to see some other familiar faces: William Bergolla, Edwin Encarnación, Dane Sardinha, Pedro Swann, and Kenny Kelly.
We also got to see Allan Simpson pitch. It's true: he does throw very fast, indeed. It's also true: he's a little bit wild. But it's not like he threw anything 10 rows into the stands. It was interesting: every time we looked up he seemed to be throwing around 95, which was a new experience for me as a spectator.
The woman two rows in front of us was wearing a Dernell Stenson pendant, and when a guy in her row asked her about it, she said that he was the father of her little boy. That was sort of poignant, but also sort of cool.
All-in-all, a good time. Winter's already asking to go back.