Daily Archives: March 5, 2007
March 5, 2007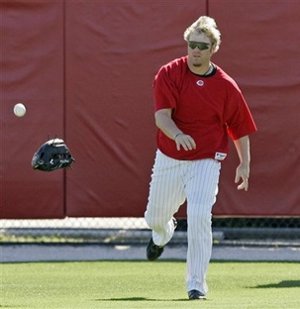 Adam Dunn shows off his improved defensive skills during fly ball practice.
AP Photo/Al Behrman. Via Yahoo! Sports.
March 5, 2007
March 5, 2007
Lineups according to C. Trent:
PHILLIES
Rollins SS
Victorino CF
Utley 2B
Burrell LF
Dobbs 3B
Helms 1B
Bourn RF
Ruiz C
Lieber P
THE UNSTOPPABLE REDLEGS
Phillips 2B
Hamilton CF
Encarnacion 3B
Dunn LF
Valentin C
Gonzalez SS
Bellhorn 1B
Hopper RF
Wilson P
I'd have to say that Paul Wilson is the favorite for #5 pitcher at this juncture, with Bailey looking like he needed some more seasoning in the minors after yesterday's struggles in the 2nd inning. We haven't seen ELizardo at all, not sure if he is healthy or not. I guess Saarloos and Livingston are in the mix as well, but they can always use Saarloos as a swing man since he has bullpen experience, and I don't know if you want to do that with Wilson who is coming off of a major arm injury.. better to have him in a set routine.