March 1, 2007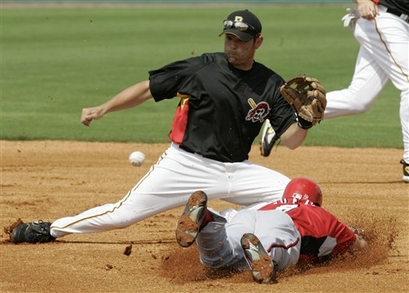 I can't even tell you the thrill I get from filling in the ol' boxscore again.
Ya know, when I was a kid, my family didn't follow any sports. My parents were more into yoga and making their own yogurt than sports.
When I was 11, my younger brother Matthew first took an interest in basketball, and soon I and my hippy parents were cheering right along with him as he watched his favorite team, the University of Michigan Wolverines, take the championship in 1989.
My college years were the reign of Drew Brees at Purdue University. Though I have never once set food inside Ross-Aid Stadium, the CTS and I used to get up early on Saturdays (yes, it was early for us) to make up a bunch of taquitos and chili dip before settling in to watch the game.
It wasn't until the return of Griffey to Cincinnati in 2000 that the CTS let show his baseball fandom that had lain dormant since the strike of 1994. Good thing I was OK with it, because I'm pretty sure that secret baseball fandom is grounds for annulment, even after six years of marriage. Pretty soon I was an enthusiast myself, and before you know it, Red Hot Mama is born.
Well, not so much "born" I guess. Perhaps more "spawned." Whatever.
The point of all this nostalgia is to say that I can't believe how excited I am for the season to start. Here I am, a woman who regarded baseball as "boring" and "too long" well into my adulthood, suddenly realizing that Marty's voice on the radio represents something that feels like it's been missing from my life forever.
So, it's with a goofy grin and a contented sigh that I say the Reds won their first spring training game against the Pirates in Bradenton this afternoon.
Eric Milton took the mound and didn't suck, though some wind-aided home runs make his line a little ugly. Paul "and you thought I'd never pitch again" Wilson got the win. Kirk Saarloos, Rheal Cormier, Todd Coffey, and Brad Salmon each took a turn as well, and all of them were adequate.
Ryan Freel stole a base successfully once and unsuccessfully once. Adam Dunn, Brandon Phillips, Mark Bellhorn, Jeff Keppinger, and Josh Hamilton each hit a home run, with Hamilton's being the subject of some discussion. C. Trent says that the majority of the sportswriters in Sarasota now believe that the Reds will break camp with Hamilton, when before they weren't so sure. Personally, I never doubted that Hamilton would head back to Cincinnati, I just wondered whether he'd deserve it. Wouldn't it be great if he did!
The win brings the Reds' spring training record to 1-0. They'll go on to play the Twins in Fort Myers on Friday at 7 p.m. Kyle Lohse will take the mound against Ramon Ortiz.