March 26, 2007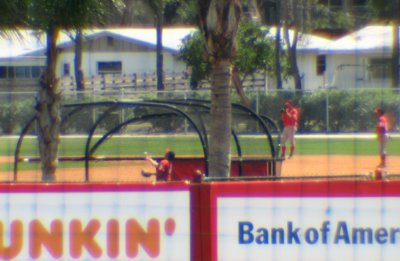 As we pulled into the Ed Smith complex today, we noticed a minor league game going on in one of the practice fields. It looked like the Pirates.
In fact, it was some guys from the Pirates' organization. A-level, I guess. However, Eric Milton was pitching for the Reds, getting his work in. John Fay has the details:
Eric Milton gave up five home runs in six innings to the Single-A Pirates. He gave up 11 hits and threw 93 pitches. The wind was blowing out, but it was less than 100 mph.
…
You can't put much stock in the spring stats, and Single-A players swing from the heels against a big leaguer, but Milton is becoming PR nightmare for the Reds. Matt Belisle has a 2.08 ERA; Bobby Livingston has a 1.23 ERA and one of them is going to start the year in Triple-A. Milton is 16-23 with 5.89 ERA in two years with the Reds and he's getting a spot on track record.
Rumor has it that the Reds are still actively looking for pitching (yeah, but who isn't?). Maybe they're not looking for yet more competition in the fifth slot, huh?