March 26, 2007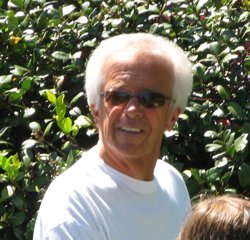 Yesterday the Reds were in Dunedin facing the Blue Jays, so, like the seasoned reporter I am, I skipped the away game and screwed around in Sarasota instead.
After putting up several photos from the game on Saturday, we headed to The Broken Egg for brunch and it was off to the Mote Aquarium to go on a nature boat ride. The ride didn't leave until 4:00, so it was off to the Smuggler's Cove miniature gold course for some wacky putt-putting fun before our boating adventure.
It's our annual tradition to putt putt at Smuggler's Cove, but this year was something special because that's where we spotted Marty Brennaman. He's working on his short game, I guess. I said hi and mention it here and now it's a business expense. Gotta love it.
Today and every day from here on out we're back to the baseballing. I'll continue to post photos about them, though my unbelievably pathetic showing in the Sports Illustrated poll has me wondering whether anyone even cares. Oh well--it's an honor just to be nominated, right?