March 25, 2007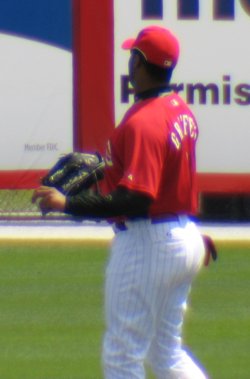 We rode into town for a monumental game. It was Ken Griffey, Jr.'s first game of the spring, and he was starting in right fied.
When it came time to warm up with some long toss, Griffey threw with Adam Dunn. In left field. From right field. He made Ryan Freel warm up with the ballboy.
Why did Griffey do such a thing? Perhaps he was demonstrating that even though he's not in center, he's still calling the shots. Perhaps he was easing in to his position change. Perhaps he was giving Freel the cold shoulder, or was confused about what he's supposed to do in right. Most likely, he thought it was funny.
For the first pitch of the game, Jr. was straddling the right field foul line, all the way back at the fence. When the first pitch didn't head for the right-field wall, Griffey gave a shrug and headed back toward a more neutral position. He's still working on the logistics of his new position.