March 25, 2007
We arrived in Sarasota well before we could check in to our condo for the week, so we headed straight over to Ed Smith Stadium. However, we were also a touch early for the game. Thank goodness Mr. Castellini changed the schedule to have the stadium open two hours before game time instead of 90 minutes, or we would have been chillin' in the parking lot for a while.
The early opening time seemed to be very popular all-around. There were lots of people already at the stadium when we arrived, enjoying batting practice.
We recently got a new camera, and the Crack Photography Staff has been diligently practicing. Even more recently, we got a zoom lens to let us take even more obsessive-fan-type photos. Dude, you can see the sweat on these guys' faces.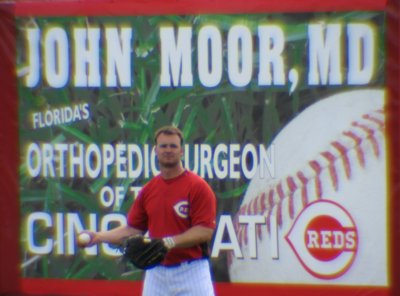 When you're not zoomed in all the way, though, the zoom lens gives sort of a halo effect. You can almost hear the chorus of angels sing about David Ross and the orthopedic surgeon advertised in the billboard behind him.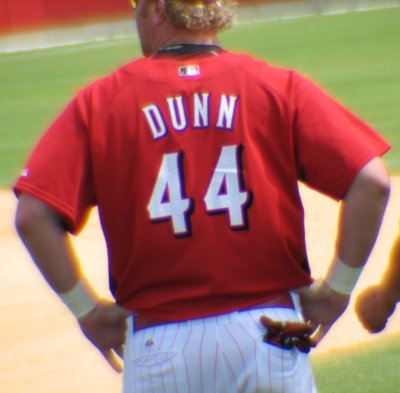 Here you can see Adam Dunn looking trim. I even like the hair.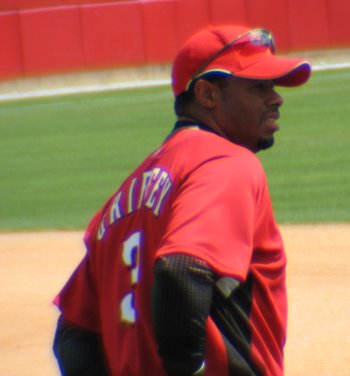 What luck! We were there to see Ken Griffey's first game of the spring. He looked just fine to me, though, to be fair, I was nearly delirious with exhaustion at the time.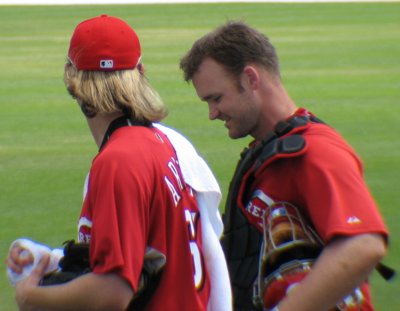 Bronson Arroyo was our starting pitcher, and here he is with his favorite catcher. How nice. Ross was out getting ready WAY before Arroyo. Bronson's preparation routine must involve some inside time.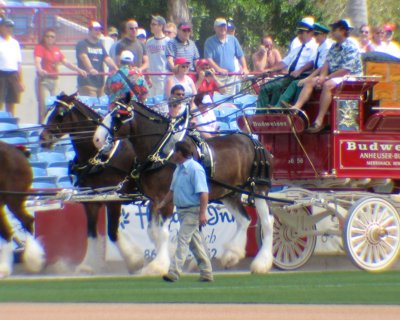 The Budweiser clydesdales were in full effect. And you thought Arroyo was a workhorse!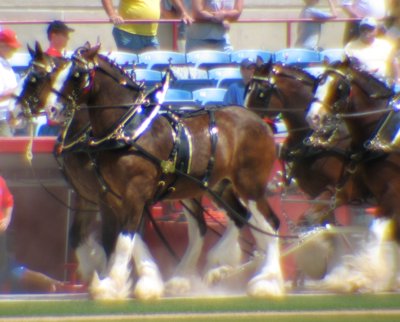 Outside the stadium we were able to walk fairly close to the beasts, which my five-year old thought was cool. I've never seen such a large horse.
And all of this was before th first pitch! More photos to come.