March 25, 2007
I don't know if it's Bob Castellini's influence or if everyone was just in a good mood yesterday, but everyone we interacted with at the stadium was friendlier than in previous years. The woman at the souvenir stands was a character, the people selling the pizza and nachos were chatty, and the players were anxious to give the autographs.
As if they somehow knew that I'd be in attendance on the right-field line, Red after Red came up to the wall to sign autographs. Since we were sitting just beyond the end of the tarp, they all came up right in front of us. If I were an autograph collector, it would have been a great day for me.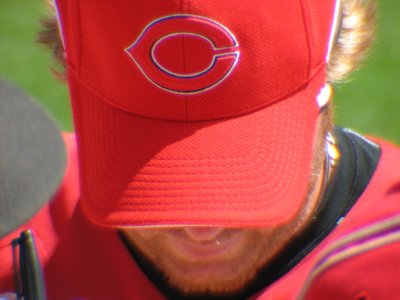 When Ryan Freel took the field and came over to sign some autographs, I wasn't too surprised. Now that Sean Casey's gone, Freel's the one known best for his willingness to sign for the kiddies. But when Adam Dunn came over, I was pretty surprised. What a nice guy, I thought.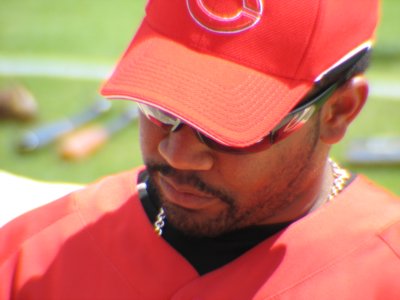 I was standing in an interminable line for an ice cream cone when Edwin Encarnación came by to do the autograph thing. Three starters giving autographs in the same day? Amazing!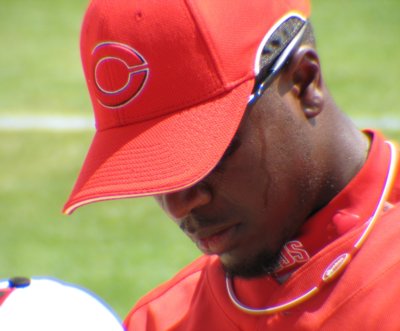 I was still away when Brandon Phillips was giving his autographs. Phillips was flashing the smile all day, especially after a great double play maneuver. That guy's got some an energy, I tell ya!
Josh Hamilton came by to give autographs before the game as well, and during the game came over to start his stretching before taking over in the field. He was chatting with the fans in the stands. One guy in the second row says, "You gonna show that old man in right field what it takes to play the game?" Hamilton turned around to look who was in right (as if he didn't know), turned back, and smirked. Very cute.
Perhaps the most impressive of the autographers to come by was the Sarasota Reds Gator. He actually plopped down in a seat in the row in front of me to interact with the kiddies. One kid asked for an autograph, which was cool, but that set off all these other kids who would get an autograph, run back to their seat, grab something else, and come ask for another one. It degenerated fast, and soon they were asking for multiple autographs on pieces of trash. Empty water bottles, peanut wrappers, cardboard cup holders. Most of the trash he refused, though he did autograph a napkin.
And you wonder why people grow weary of signing autographs.