March 28, 2007
Two years ago when we first set foot inside Bright House Networks Field in Clearwater, my son was 3 years old, and not particularly interested in baseball. The CTS and I used to entertain him by taking turns going for walks around the stadium while the other tried to catch a few innings of the game. That's how I stumbled across the Kids' Zone: a playground, inflatable jumping house, and kid-centric concession area that we didn't get to leave from until the park was actually closing well after the game was over.
Every year since then (and even when going to regular season games) Winter would ask if we were going to the place with the playground. Last year we made a special trip out there when the Reds weren't even in town. This year, we went last night.
And Winter got bored before the game even started. We were back in our seats with Dippin' Dots before the first pitch. They grow up so fast, don't they?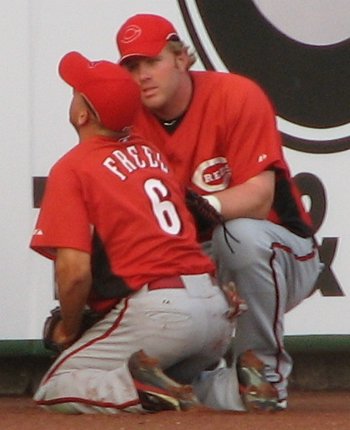 Well, maybe not everyone. After a caught-stealing in the first inning, Ryan Freel just couldn't hold back his enthusiasm in the bottom of the first with a headlong dive into the wall. Adam Dunn was waving for help before the dust had even cleared from Freel hitting the ground.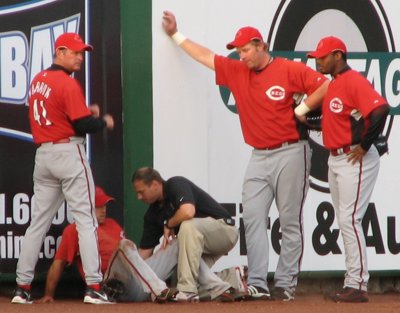 After not moving very much for a distressingly long period of time, Freel did stay in the game to finish the inning. However, Josh Hamilton replaced him in the second inning. Drew Stubbs replaced Hamilton in center a little while later, and you could definitely tell that it wasn't Freel out there.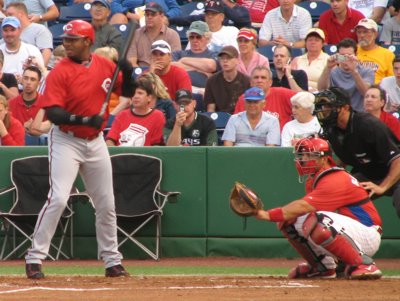 On the other hand, Ken Griffey, Jr., showed quite a bit of maturity. With the shift on for him leading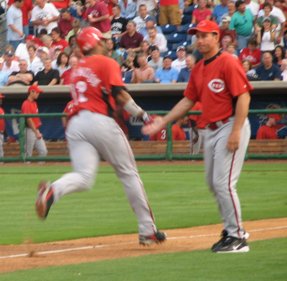 off the second inning, he didn't try to blast one over their heads just to spite them. No, he laid down a nice easy bunt for a base hit. Barry Larkin did that in the very first Reds' at-bat of the very first major league game I ever attended, so I have a certain respect for the maneuver.
And a good thing Jr. got on, too, since little Edwin Encarnación smacked a big ol' home run to give the Reds their score.



Kyle Lohse got the start, and was not as good as I'd like him to be now that I've dubbed him the third starter. He gave up two earned runs (solo shots) on five hits in his four and a quarter innings. Jon Coutlangus was much better as he finished out the fifth inning, and his continued adequacy makes me irritated that we've got Rheal Cormier on the roster, especially after nights like last night. He surrendered three earned runs on three hits in the seventh, prompting me to yell, "You're on our team now, Cormier!"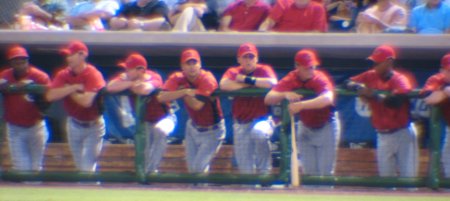 Todd Coffey and Dustin Hermanson also got turns. Coffey pitched a scoreless sixth. Hermanson gave up one in the eighth.
It was an unfortunate showing from the Reds that brought their spring training record to 16-9. They continued their campaign today when they hosted the Pittsburgh Pirates at Ed Smith Stadium.