March 28, 2007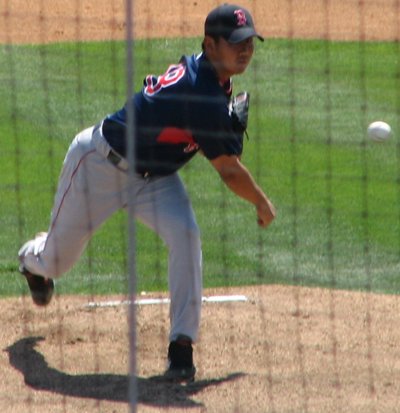 The games at Ed Smith Stadium always sell out when the Red Sox come to town, but today was even specialer than that because one Daisuke Matsuzaka was taking the mound for the Sox. He pitched five innings of no-hit ball with six strike-outs, but there were plenty of baserunners thanks to an error that allowed David Ross to reach in the second and FIVE walks. He was pretty good, but not the kind of dominator that you'd expect for $100 million, which also seemed to be the sentiment of the Sox' fans in the stands all around us.
Later in the game, Daisuke attempted to bunt, and didn't look so hot doing it. It prompted one guy sitting near me to ask his friend whether they have the DH in Japan. He also walked once, which is unbelievable to me. It was the only walk issues by Livingston.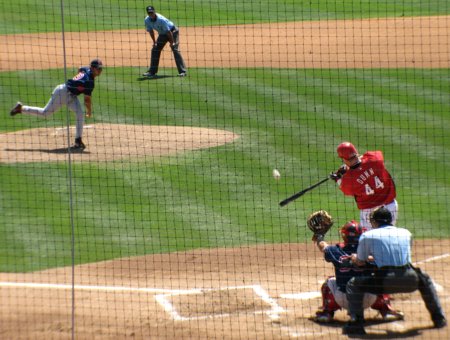 Meanwhile, taking the mound for the Reds was Bobby Livingston. In his five scoreless innings, he gave up just one hit and one walk with four strikeouts. All this for the league minimum!
Since the Internet connection was down yesterday and I wasn't able to post, I ought to clarify that this is the game that was going on at the same time that Eric Milton was getting smacked around by the single-A Pirates in the adjacent practice field. The CTS and I now consider Milton the fifth starter, with Kyle Lohse moving up to third and the big competition being for the fourth spot. He's a little overpaid for a fifth starter, but then again, he's just overpaid in general, so there you go.
There were no home runs this game, which is always a surprise when you watch the Reds, especially when they score five. Jeff Conine, Brandon Phillips, and Paul Janish each contributed an RBI, with the other two coming from the Latin Love Machine himself, Javier Valentín.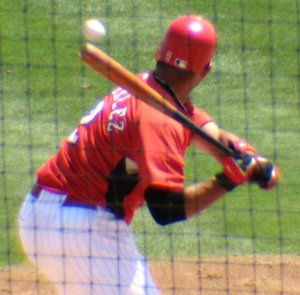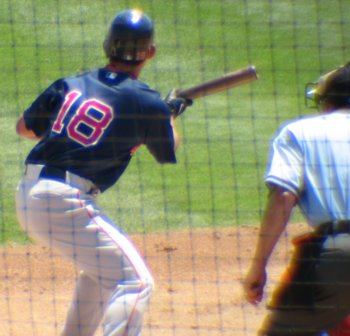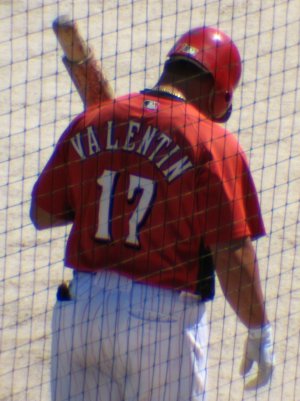 It's not too often that you see a line score with five runs and three hits. I guess seven walks, one error, two HBP, and a passed ball can add up.
The win brought the Reds' record to 16-8. Yesterday they went on to send Kyle Lohse to the mound to face the Phillies in Clearwater.