August 12, 2007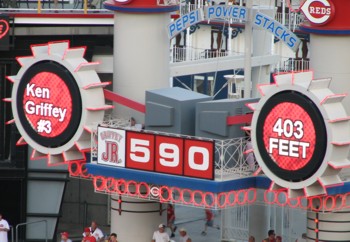 Things were looking promising for the Reds, going into extra innings at home on Friday, before the wheels fell off in the eleventh to cause them a 12-7 loss to the Padres.
It's stressful for me to watch a baseball game with my 6-year old boy because I neither parent with an iron fist nor stare off into space while he goes wild doing whatever he wants. In fact, I probably put too much effort into trying to make the game a fun and engaging experience for him. It's not easy, either, because he hasn't really gotten into baseball yet and his attention span is about as long as SpongeBob Square Pants'.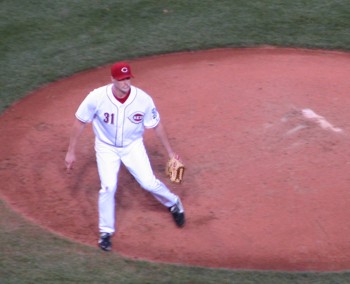 That being the case, I spent more time trying to show him how to add up the runs on the scoreboard and tracking down the cotton candy guy than observing the game. Matt Belisle had gotten the start, and he wasn't exactly rocking the house, so at least I didn't miss much. He did last five innings, but gave up five runs (earned) on six hits and two walks. He allowed two home runs.
Gary Majewski came in for the sixth and didn't do any better. He allowed a solo shot, which doesn't seem like a lot, until you consider that it was over the course of one inning. On the other hand, it did bring his ERA down to a healthy 14.85, so maybe it was a good thing.
You know, I've complained a lot about Majewski during his time with the Reds, but I'm starting to feel a little sorry for the guy. He seems to be suffering from the same Cincinnat-itis that's been affecting so many of the pitching staff, causing them to function perfectly well in Louisville and fall to pieces as soon as they step over the state line. The poor guy's even cut his hair. I hope things turn around for him soon.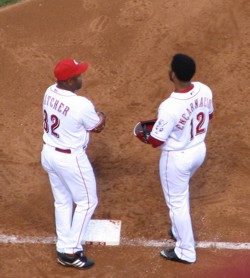 Mike Gosling got a turn next, allowing a run (earned) on a hit in two-thirds of an inning. Jared Burton also worked two-thirds, but didn't allow any runs on his hit. "Everyday" Eddie Guardado worked his second day in a row on his second day back from his extended injury but didn't have a lead to blow this time. He pitched a hitless two-thirds, though the Pads were hitting some very long outs.
Around this time, my son was dancing like a maniac hoping to get on the Jumbotron. However, he was very tired and, even in the best of times, isn't all that coordinated, and somehow fell over to skin the heck out of his knee right there in front of our seats. So we missed Mike Stanton taking over for innings nine and ten. We were rummaging around in the unattended first aid station looking for a Band-Aid and some antibiotic ointment while he managed to keep the Padres runless on one hit and a walk.
But we made it out for the eleventh. Oh, the eleventh!
David Weathers has been very good this year. Far, far better than I think anyone had any right to expect him to be. So I'm hoping that his performance on Friday was just him working out some of that suckage that he's successfully delayed for so long. He allowed four runs (earned) on one hit and three walks through two-thirds of the eleventh. They had to bring in Victor Stantos to finish 'er off, and he allowed another run via solo shot before it was all done.
Quick aside (as if there haven't been enough of those this game wrap): during the tenth inning, a rather grumpy woman walked by in the course of her ushering duties. She stopped right next to me, looked out at the field, and grouched, "hurry up people! I want to go home and have a glass of buttermilk!" So at least I had that.
Plus, there was Ken Griffey, Jr's 590th home run. Changing the numbers between the smokestacks was interesting enough to my boy to win me almost a whole minute between requests to go home and/or buy Dippin' Dots.
The whole debacle, though it wasn't truly a debacle for most of the game but totally felt like it by the end, took over four hours to complete. It hardly had us whistling a happy tune as we trudged back over the river where we were staying in Newport. (BTW, if you were considering trying out the Travelodge Inn there, stay far, FAR away.) It brought the Reds' record to 49-66. They would go on to pit Bobby Livingston against Justin Germano on Saturday afternoon.