August 22, 2007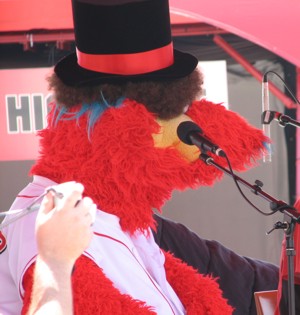 Better late than never with the photos from the weekend trip to Cincy a few weekends back. I recounted Friday night's activities in a much more timely manner, but we actually stuck around until Saturday, though not for the actual game.
Saturday morning was the pizza party for members of the Reds Heads club, where we thought that only one parent would be able to get in. Thankfully, they were OK with both of us attending our boy because I didn't know what in the world one of us was going to do while the other one was there.
For some reason, I thought that the pizza party would take place indoors, so I did not properly sunblock myself. In fact, we were pizza partying in the Fan Zone, which is probably a much better idea. Not only is there a playground, but they also kept the kids and their pizza in an area that could be power-washed.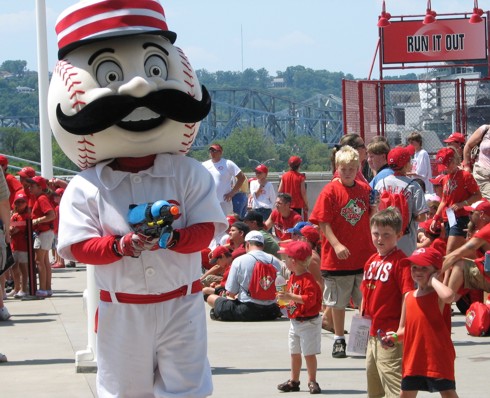 Mr. Redlegs, the only mascot I know of who is routinely armed, was in attendance and squirting like crazy. He even squirted me, which I found to be an odd experience. Suddenly my side is wet, and I look around to see Mr. Redlegs grinning at me, some three feet away. What am I supposed to do in response, I ask you. Chase him? Punch him? I mean, I'll flirt with Gapper, but Mr. Redlegs is just going too far.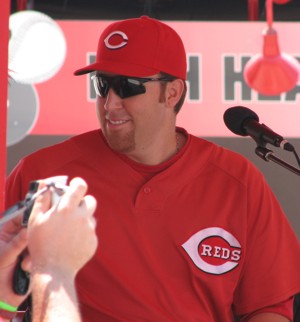 After the kids had eaten as much as they could handle, it was time for a little presentation on the stage. Tom Hume was there, as was Mike Gosling.
A little later, Aaron Harang appeared. The three pitchers took some cute little questions from the kids, though they didn't seem to know how to talk to the 5-8 year old crowd. It's not like 14-year olds who know something about the game; these kids are probably already thinking about SpongeBob by the third word in your answer. When they ask you what it's like to be a pitcher, "it's really fun!" is about the level of detail they can deal with.
After the presentation, we could mill around the stadium until it was time for the concert. Here's a photo of David Weathers tossing with his 6-year old. I haven't seen the boy up close, but compared to my 6-year old, he looks huge, plus he can throw further than I can. You get that eerie sense with this kid that you might just be looking at the future of something.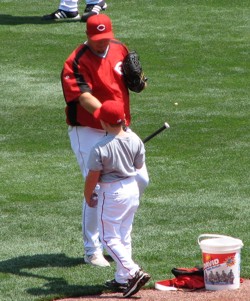 Finally it was time for the concert. We parked under a patio umbrella and settled in with a couple beers to check out the show. Our son continually ran off to do the run to first base, do the batting video game, and play on the playground while we listened to the concert. It's a darn nice setup for families.
We ended up bailing before the game. We'd already been in the stadium for something like four hours and we had a neighborhood party to get back to in Indiana, so we listened on the radio on the drive home.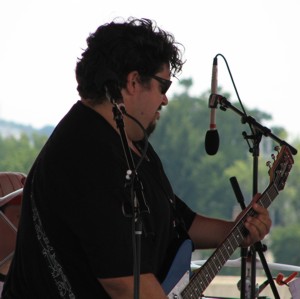 Besides, Mr. Redlegs had put away the squirt gun in favor of his bat, so we knew we'd better get out of there before he started attacking me with that.
If the games had been as exciting that weekend as they're turning out to be lately, we might have stuck it out. As it was, we were able to enjoy a lovely day at the ballpark, entirely baseball-free.