November 2, 2011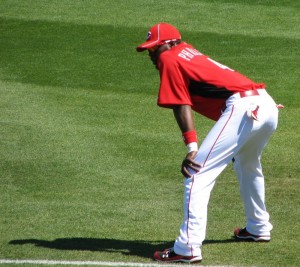 Now that the World Series is over, Major League Baseball will start announcing its regular season awards. Last night, the Gold Gloves were announced.
And the Cincinnati Reds had two recipients: Joey Votto and Brandon Phillips.
Phillips has won the award for his defense at second base three of the last four years.
"It's a lot of hard work," Phillips said. "The manager and the coaches respect my work."

Phillips realizes the importance of defense.

"Defense wins games," Phillips said. "I go out and catch the ball the best way I know how. . . The baseball field is my coliseum. I go out and entertain the fans."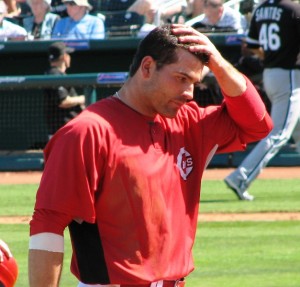 The award was Votto's first, and was the first ever for a Reds first baseman.
"I'd like to thank the managers and coaches who selected me," Votto said. "It always means a tremendous amount to be selected by your superiors for any award, especially for one of this magnitude. I'd also like to thank the Reds' coaching staff for their help, with a special mention to bench coach Chris Speier."
Both Votto and Phillips had clauses in their contracts that award them bonuses for the awards. Phillips will be $250,000 richer, while Votto gets $50,000.
Last year, the Reds had three Gold Glove winners: Brandon Phillips, Scott Rolen, and Bronson Arroyo. It could've been three again this year, but Jay Bruce was robbed by the Los Angeles Dodgers' Andre Ethier. I guess there's always next year.