November 7, 2011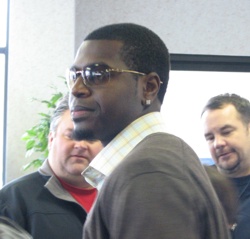 I missed this last week, but the day after Cincinnati Reds second baseman Brandon Phillips won his third Gold Glove, Phillips received his first Silver Slugger.
Phillips definitely deserved the award, as he was by far the most valuable offensive second basemen in the National League in 2011. He wracked up a Wins Above Replacement value of 6. The next closest was Philadelphia Phillies' second basemen Chase Utley at 3.9. That's 6 games the Reds won because of Phillips' presence. (When you add in first baseman Joey Votto's WAR of almost 7, you can tell the right side of the infield was certainly pulling its weight.)
It was the best offensive season from Phillips in his career. Most of the major stats were above his career averages.
Batting Average: .300 (.272 career)
On-Base Percentage: .353 (.322 career)
Slugging: .457 (.434 career)
His home runs did not reach their peak of 30, which he got in 2007 when I think he hit cleanup for much of the year. He was never very suited for that position, and I hope that his new-found on-base percentage is more than just an aberration in a contract year. I'd love to see Phillips keep that up for the Reds. Getting on base 35% of the time is a better number than any Reds lead-off hitter I can remember for the last ever.
That it did happen for a year in which Phillips was seeking either a new contract or an extension does give me pause; however, that's something to worry about next year. For now, we should enjoy Phillips getting his well-deserved recognition.