November 17, 2011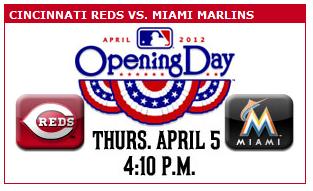 I've been out of the state all week, and am now catching up on some old stuff, which is why you're seeing this old news here now. Even half a week late, though, I think it's worth pointing out.
The Reds had been scheduled to open the season on Friday, April 6. But thanks to some special finagling, they'll now be playing the day before (Thursday, April 5) at 4:10 p.m. They'll be taking on the Marlins after the big Opening Day Parade:
"We want to thank Major League Baseball, the MLB Players Association and the Reds and Marlins players for agreeing to move Opening Day to Thursday, April 5," said Bob Castellini, Reds President and CEO. "Opening Day is a long-standing tradition for this team, our fans and the City of Cincinnati and we are pleased that parade and game will now be on Thursday."
It'll be here before you know it.