November 13, 2011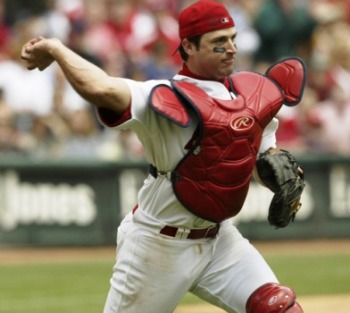 The St. Louis Cardinals won the race among baseball teams to pick their new field manager, deciding on former catcher Mike Matheny to replace Tony La Russa. They beat the Chicago Cubs to the punch, although they had quite a head-start since La Russa told the GM back before the season was up.
It's a departure for the Cardinals. General Manager John Mozeliak is going against what has proved successful for St. Louis for the last three decades.
Each of the team's past three full-time managers, La Russa, Joe Torre and Whitey Herzog, had previously made the playoffs as a manager before being hired. The last man who didn't fit that profile was another former Gold Glover in St. Louis, Ken Boyer, who managed from 1978-80 after winning five Gold Gloves as a third baseman with the Cardinals.
Matheny is a former catcher, which is so often a prerequisite for managers these days. And he's one the Cardinals thought highly of, despite his lack of any offensive ability. Matheny was a good defensive catcher, though, and spent some time mentoring and teaching Yadier Molina as he broke into the majors for the Cardinals.
Since retiring, Matheny has served as a catching instructor and a special assistant for St. Louis. This considerable promotion will be announced in a press conference on Monday.