November 28, 2011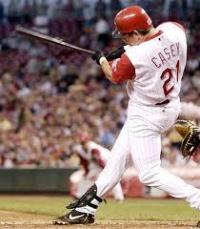 Former Reds' first baseman Sean Casey will be among the next three players inducted into the Cincinnati Reds Hall of Fame.
No word on whether or not Casey will be driving his 1995 Honda Accord to the ceremony next June.
Take it away, press release.
Three-time All-Star Sean Casey, Big Red Machine infielder Dan Driessen and 19th century first baseman John Reilly will be the next three players inducted into the Cincinnati Reds Hall of Fame.

Casey was selected by the fans through the Modern Player Ballot presented by Cincyfavorites.com. The Veterans Committee selected Driessen and Reilly to make up the Reds Hall of Fame Class of 2012.

The trio will be honored June 22-24 during Reds Hall of Fame Induction Weekend, which will include on-field ceremonies at Great American Ball Park, the star-studded Hall of Fame Induction Gala and a variety of festivities at the Hall, including meet and greets with Reds Hall of Famers and alumni.

One of the most popular players to ever wear a Reds uniform, Casey came to be known as "The Mayor" during his eight-year Reds career.

A versatile infielder of the Big Red Machine clubs of the 1970s, Dreissen played 12 seasons for the Reds from 1973 to 1984.

A Cincinnati-native and dominant first baseman in the 1880's, Reilly wore a Reds uniform for his nine-season Major League career and held Reds records for most singles, double, triples, home runs, runs scored, RBI and games played.

Casey was the top vote-getter of the thousands of ballots cast online at RedsMuseum.org, at Great American Ball Park and at participating Skyline Chili and Montgomery Inn locations.

Driessen and Reilly were selected by the Reds Hall of Fame's Veterans Committee, comprised of members of the media, Hall of Famers, historians and Hall of Fame executives.

"Since 1958, the fans have played an integral part in the Hall of Fame election process, and this year was no exception as record participation resulted," said Reds Hall of Fame Executive Director Rick Walls. "I'd like to thank Cincyfavorites.com, the thousands of fans that voted, and the Veterans Committee for recognizing the contributions of these players."

The addition of Casey, Driessen and Reilly will bring the Hall's membership ranks to 75 players, three managers, and three executives.