November 10, 2011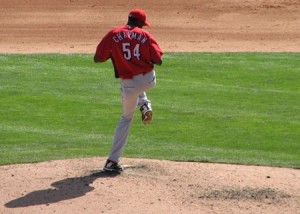 At the beginning of October, the Cincinnati Reds announced they would be using this off-season to convert Aroldis Chapman to a starter.
Originally, the plan was to have Chapman build up arm-strength in Goodyear, AZ before sending him to Puerto Rico for winter baseball. After two appearances in the Arizona Fall League, that plan has changed.
"We've decided against sending him to Puerto Rico," GM Walt Jocketty said. "He's on a strength-and-conditioning program in Arizona. He'll go to Florida after that and continue to work out."
Of course, the immediate concern is that Chapman is injured, but Jocketty denied that. Instead, the Reds simply decided the risk of winter ball was too high for the reward. "Unlike the [Arizona Fall League], Winter Ball is not a controlled situation and it is very competitive."
Given Chapman's tender status, I can't argue with being more cautious. It's only November. There should be plenty of time to get in shape to start by next season.