November 11, 2011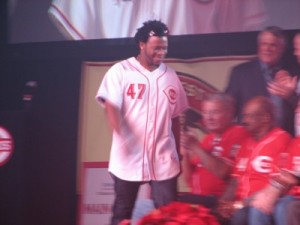 In a similar award to the one received by Joey Votto's, MLB.com awarded Johnny Cueto as the Cincinnati Reds' Pitcher of the Year.
This might have been hard to believe at the beginning of the year, given that Cueto missed the first month of the season with shoulder inflammation. But he really was the Reds' best pitcher, and missed winning the National League's ERA title by just 6 innings.
Instead, Cueto settled for a 9-5 record with a 2.31 ERA in 156 innings. He pitched three of the Reds' four complete games (Bronson Arroyo had the other), and his 1.090 WHIP was best in their starting rotation.

"Hopefully, next year, he can be a 200-innings guy," Reds manager Dusty Baker said. "It's a good feeling when you have Johnny Cueto every fifth day. The team feels confident. I can manage a little differently the day before knowing he's going to go deep in games and I probably won't use my bullpen. That's huge."
Congratulations, Mr. Cueto. I'd love to see you put up 200 inning at a level close to what you did in 2010.