June 6, 2012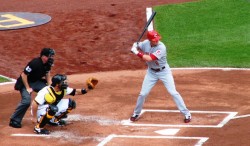 The Reds have called up Kristopher Negron from AAA Louisville. To make room, they have optioned Mike Costanzo. The Reds point out that when Negron gets on the field, he will be the third Reds player this season to make his Major League debut, preceded by RHP J.J. Hoover and Costanzo himself.
Constanzo has not exactly torn it up with the Reds. He has hit just .056 in 18 ABs. Negron, on the other hand, has been hitting .212 for the Bats–better, but also not setting the world on fire. John Fay suggests that swapping Costanzo for Negron might be less about performance and more about flexibility: Costanzo is an infielder, but Negron is an IF/OF.
In related news, starting center fielder Drew Stubbs hurt himself when fouling off a ball in the seventh inning last night. It was bad enough that he left the game after the 8th and wasn't immediately sure whether it would take him out of commission for any amount of time.