September 5, 2012
| Team | 1 | 2 | 3 | 4 | 5 | 6 | 7 | 8 | 9 | R | H | E |
| --- | --- | --- | --- | --- | --- | --- | --- | --- | --- | --- | --- | --- |
| Phillies | 0 | 0 | 0 | 1 | 0 | 0 | 0 | 0 | 0 | 1 | 4 | 0 |
| Reds | 0 | 0 | 0 | 0 | 0 | 2 | 0 | 0 | 0 | 2 | 7 | 0 |
W: Latos (12-4) L: Kendrick (8-10) S: Chapman (35)
I realize it's a little late to be talking about yesterday's game. I got busy this morning and ran out of time, but I decided to write this one anyway because:
If I wrote about today's game instead, I wouldn't have much to say tomorrow, when there's an off-day, and
I don't really want to think about today's game. I prefer to live in the past. So here we go.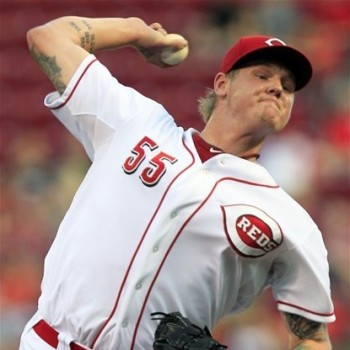 Mat Latos had a hell of a game yesterday, holding the Phillies to just one run. He worked 7.0 innings and only surrendered 4 hits. That's some skill I'd like to see him demonstrating in the play-offs, my friends.
Jonathan Broxton worked the eighth and didn't give up a hit to get a hold. Aroldis Chapman worked the ninth and also didn't give up a hit to get a save (his 35th). This is also the kind of skill I want to see in the play-offs. The bullpen has just been stellar, but it's kind of easy to forget about because we can go for such long stretches without seeing much of it.
Speaking of things we want to see in the post-season, Jay Bruce continued his hot streak last night. He was 2-for-3 with a walk and both of the Reds' RBI. He hit a home run in the sixth with Ryan Ludwick aboard to give the Reds all the score they'd need.
Also notable, if less flashy, Ryan Hanigan also went 2-for-3 on the night (good thing he hits before the pitcher or his contribution might be wasted) and Xavier Paul got a hit in his pinch-hit appearance.
The win brought the Reds' record to 83-54 and it tied the series with the Phillies at 1. They went on to finish out the series today at 12:35 p.m. If you haven't checked the score yet, I won't spoil it, but you can pretty much guess what would happen when Mike Leake (RHP, 7-8, 4.45 ERA) goes up against Roy Halladay (RHP, 8-7, 4.02 ERA).