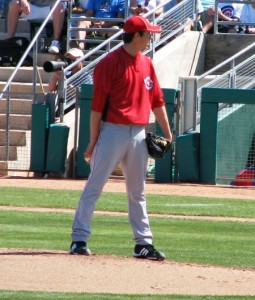 Last Game
The Reds completed the sweep of the Pirates last night by a score of 1-2. Homer Bailey put in a very nice start for his 11th win, which is a career-high number of wins for him. J.J. Hoover pitched in the ninth inning for the first save of his career. The 2 RBI belong to…Wilson Valdez? And Scott Rolen?
Lots of unusual things happening tonight.
Next Game
Today the Reds have the day off before taking a trip to visit Miami. If it seems like they just had a day off, you're remembering last Thursday. In fact, there are two MORE off days coming after today. I'm not sure when September became like April, schedule-wise, but I'm not complaining. The boys could use the rest leading up to the play-offs.
Looking at next year, and not in a "there's-always-next-year" kind of way
The Reds released their 2013 schedule today. They'll be opening the season on April 1 against the Angels. You'll recall that the Astros will be moving to the AL next year, which will give each league 15 teams, which will necessitate interleague games going on all the time.
The Reds will play the Cardinals for weekend series a couple times, which is always exciting. They'll visit the Cubs over Memorial Day weekend, which is our chance to dub Wrigley Field "GABP North." And, of course, there'll be the chance to see them face off against the Indians.
You can get an early start on memorizing the schedule by printing out of a copy of the schedule for yourself.
What to Say to Sound Smart at the Water Cooler
Zack Cozart is nearing his return from that strained oblique that's had him out for the last week. Nick Masset, on the other hand, had season-ending surgery that will have him recovering for 4 months. Hopefully, Aroldis Chapman is closer to the Cozart timeline.