September 13, 2012
| Team | 1 | 2 | 3 | 4 | 5 | 6 | 7 | 8 | 9 | R | H | E |
| --- | --- | --- | --- | --- | --- | --- | --- | --- | --- | --- | --- | --- |
| Pirates | 0 | 0 | 0 | 1 | 0 | 0 | 0 | 0 | 0 | 1 | 7 | 1 |
| Reds | 0 | 0 | 1 | 0 | 0 | 1 | 0 | 0 | 0 | 2 | 6 | 0 |
W: Bailey (11-9) L: Burnett (15-7) S: Hoover (1)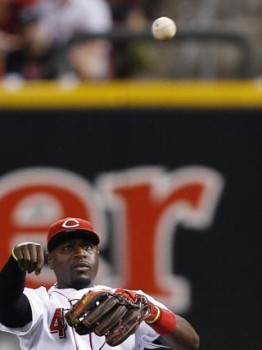 Just when everyone was starting to really worry, the Reds swept the Pirates, finishing them off last night.
Homer Bailey took the ball for the Reds and had a very, very nice outing. In 7.0 innings, he allowed just 1 run (earned) on 6 hits and 2 walks. You get the feeling this guy wants to make the play-off roster or something.
Sam LeCure pitched a perfect eighth inning before J.J. Hoover took over in the ninth. Hoover allowed a baserunner with 2 outs in the inning, but it didn't go any further than that.
The first Reds run scored in the third inning when Ryan Hanigan and Brandon Phillips each singled and then advanced on a wild pitch. Wilson Valdez then grounded out, but it was enough to bring in Hanigan.
The Reds' winning run came in the sixth when Scott Rolen sacrificed in Ryan Ludwick. All the scoring on productive outs. That's weird. But it does make a little more sense when you consider who's credited with the RBI in this game.
The win brings the Reds' record to 87-57. They lead the NLC by 11.5 and the magic number is 8. There are fewer than 20 regular season games, which makes me kind of sad, but they're stretching it out by taking today off.
Tomorrow they'll resume play in steamy Miami. Bronson Arroyo (RHP, 12-7, 3.66 ERA) will face off against Jacob Turner (RHP, 0-2, 5.29 ERA). First pitch at 7:10 p.m.