September 25, 2005
The Reds played their last home game of 2005 today and wrapped up their year at Great American with a wholly anticlimactic 6-3 loss to Philadelphia. Sure is a far cry from that opening series sweep of the Mets at the beginning of April. Not to get all nostalgic on you or anything.
But it's not like the Reds didn't do anything at all this weekend. Just when I was all prepared to rant about how I'm sick of hearing players accept responsibility for horrible performances without doing anything about it, Eric Milton pulled out a respectable showing on Saturday to lead the Reds to a 2-3 win. Unfortunately, odds are that I'll be posting said rant next Thursday.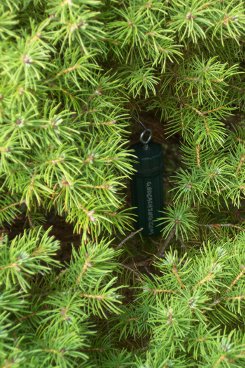 While everyone else was at Saturday's game, I was running around the tri-county area geocaching. Our hunts for the caches sent us through three cemeteries. In one we discovered relatives of mine (well, their headstones, anyway) and in another we discovered relatives of Jon's. The cache in the latter was harder to find than something to get excited about the Reds this season, as you can probably deduce from the picture on the left.
It's been a very good e-mail weekend for the RHM, as I got my first fan letter that wasn't asking me to link to another website or buy Viagra (hi Elizabeth!) and was also granted my first real-life interview. Details are not final on the interview, so I won't go further into it except to say that I am totally psyched to think that I'll actually have something to say after the Reds' season is done.
Also this weekend, I was linked to by a pay porn site that appears to have listed the posters among the non-nudity related diversion they think their clients will enjoy. Greetings nudie-pic seekers! Unfortunately, you will not find any nudie pics here right now, but you never know. Maybe I'll announce some sort of deal where if the Reds win the World Series in 2006, I'll bare all. I'd better start tanning now.
Finally, in honor of the Phillies, I have posted a memory from our spring training trip in March. In this adventure, we visited the Phillies' spring training park and almost can't get Winter to leave. Ah, spring training. Such naively high-hopes we all had back then. Check out the post if you're in the mood for a little nostalgia.