June 23, 2012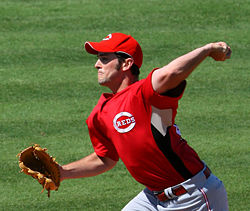 As RHM said yesterday in her injury report, left-handed reliever Bill Bray was "due to come back any time now." And that time was just before last night's game.
Bray was activated from the disabled list and reinstated to the active roster. To make room for him, J. J. Hoover was optioned down to the AAA Louisville Bats.
Hoover had been doing very well for the Reds, so hopefully losing him won't damage the team. Hoover had a 3.00 ERA over 17 games with Cincinnati.
"It was a very tough decision," Baker said. "J.J. did a great job for us. He got ready a lot quicker than we anticipated. We thought he'd be ready in the middle of the season. He performed well. It wasn't anything he did. It was a matter of numbers.

"We told him he'll be back. Hopefully, he'll be back to stay a long time. He certainly has the stuff and he was intestinal fortitude for the job. He works hard. You don't know when he's around half the time. That's what you want out of rookies. That's old school — seen and not heard. He's the epitome of that."
Ah, the obligatory "tough decision" comment. Has a manager ever said it was an easy decision to get rid of a player? Regardless, this should make Baker feel more comfortable. He's been longing to have another lefty in the bullpen.