Last Game
Yesterday's loss was, for me, shrouded in the mystery of being a non-televised, not-available-online, only-AM-radio-I-own-is-in-my-car game. I tried to follow it on the Gameday and through the Sportacular alerts on my phone, but it was like distant wails of mourning–"aaaaaawwww Joey Votto's return to the line-up is wasted wwwwaaaaaa."
To be somewhat less melodramatic about it, Mike Leake pretty much screwed the pooch yesterday and gave up 6 runs (earned) in 2.1 innings. The offense only put together 2 runs against Roy Halladay, which isn't too bad for the Reds against that particular pitcher, but sure as heck wasn't enough. Reds lose the game and the series. The final score: Phillies 6, Reds 2.
Next Game
It was kind of a bummer way to go into the off-day today, but at least the free time won't break their stride. This is the first of four off-days for the Reds this month.
They'll be back in action on Friday when they host the Astros. It will be a Free Agent Friday, so all you single Reds fans looking to pick up a kindred spirit can get drink specials, attend a singles mixer, and "more."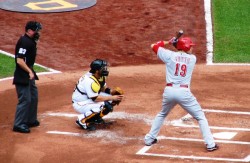 Joey Votto Finally Stops Jerking Us Around
As if it weren't bad enough that the dude had to have a follow-up procedure to the original arthroscopic surgery that happened right after the All Star Break, making it out of the rehab-start phase turned out to be a real challenge for Joey Votto.
First it was "he'll join the team in Houston," then it was, "we'll just wait till the rosters expand," then it was "we've run out of minor league games to send him to, so he'll just sit the bench for another day." At last, today, they ran out of excuses and had to put Votto in the line-up.
And guess what? He rocked! From the story on Reds.com:
Joey Votto certainly didn't look like he had missed 50 games when he played Wednesday for the first time since being sidelined with a left knee injury.

The Reds first baseman was 2-for-3 with two singles, a walk and a strikeout in a 6-2 loss to the Phillies.
Rumor has it he even slid into second, and his knee failed to explode into little pieces of cartilage confetti. Post-season, here we come!
What to Say to Sound Smart at the Water Cooler
Thanks to the national FOX deciding to air the Reds game on 9/22, FSOhio has picked up the remaining two games that weren't already scheduled to be broadcast. So, the dearth of AM radios will no longer prevent anyone from catching any Reds game for the remainder of the 2012 season.