Last Game
The Reds kept themselves from being swept by the Marlins yesterday. The Reds lost the lead twice before Ryan Ludwick knocked in Chris Heisey in the eleventh inning. It took the team 17 hits to get its 5 runs. Joey Votto went 2-for-4 with 2 walks. Dude is an on-base machine.
Next Game
Our guys take the day off today before visiting the Cubs tomorrow. In fact, there are only seven games happening in all of the major leagues tomorrow, so lots of teams are getting the chance to put their feet up.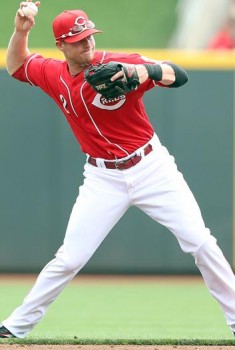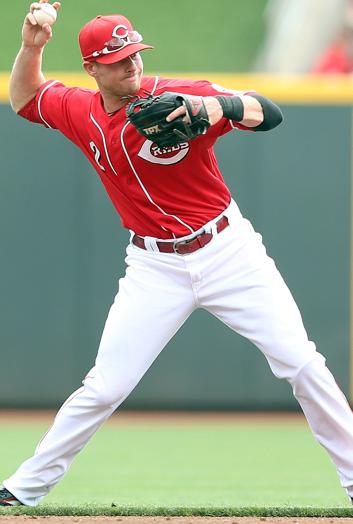 Hey, Remember Zack Cozart?
Zack Cozart, once the Reds' major contribution to the field of Rookie of the Year candidates, hasn't played since September 3. He's been suffering from a strained left oblique, and the team doesn't really have any reason to rush him. The rosters have expanded so there's no need to put him on the DL, and the magic number is down to 5, so they might as well not risk injuring the guy before the postseason.
Same thing goes for Aroldis Chapman. His velocity was way down, so the Reds have just been reaching into their deep closer pocket and choosing out a different closer instead. We've just got to have Chapman back for the post-season, so whatever it takes to get his speed back is the right thing.
Speaking of guys we've just got to have in October, Johnny Cueto is the most important person who has to get back into form. He's not officially injured, but his last 3 outings have looked like the work of a very tired man. I guess the Reds aren't skipping him, but they'll probably go to the bullpen early when he pitches. He's not exactly in Cy Young contention anymore after those last 3 stinkers, so they might as well.
What to Say to Sound Smart at the Water Cooler
At .465, Votto's OBP leads the National League. Unfortunately, that extended DL stint leave him with too few at-bats to be eligible for the award at the end of the season unless he averages about 6 ABs per game from here on out.