May 1, 2012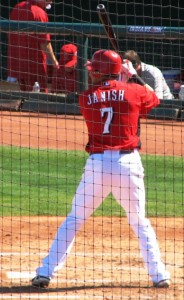 The Cincinnati Reds primary shortstop from 2011 Paul Janish, often referred to as "Soft J" around the RHM household, has broken his left wrist while playing for the Louisville Bats.
Janish was hitting very well with the AAA affiliate of the Reds, with a batting average of .315 and an on-base percentage of .390. He's expected to miss 4 to 6 weeks.
Of course, the worst part of this is what will happen to him when he comes back. It'll take a year before he recovers his power.