May 4, 2012
Got this announcement in the ol' inbox today. I changed all the "girls" to "women." I'm sure it violates the brand image they're trying to create, but it's my blog and I'll fail to refer to adult females like children if I want to.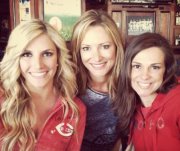 CINCINNATI, OHIO – Have you ever wanted to have lunch with a Cincinnati Reds player, a FOX Sports Ohio broadcaster, and the FOX Sports Ohio Women? Now is your chance with FOX Sports Ohio's Lunch Bunch Sweepstakes, presented by Cincinnati Bell Fioptics.

FOX Sports Ohio and Cincinnati Bell Fioptics will be giving away lunch for two with Reds outfielder Drew Stubbs, Reds Live host Jim Day, and the FOX Sports Ohio Women Hallie, Kristine, and Sara. The winner will also win a 46″ HDTV.

Beginning Monday, May 7, Reds fans can "like" the FOX Sports Ohio Women on Facebook at www.facebook.com/foxsportsohiogirls and enter the sweepstakes at the "Lunch Bunch" tab for the chance to win.

The Lunch Bunch Sweepstakes runs through Wednesday, May 23. The official rules are located on FOXSportsOhio.com.
Lunch for two with Stubbs, Jim Day, Hallie, Kristine, and Sara? I'm sure the FSO Women don't eat much, but lunch for two doesn't seem like it's going to go very far in that crowd.