May 15, 2012
| Team | 1 | 2 | 3 | 4 | 5 | 6 | 7 | 8 | 9 | R | H | E |
| --- | --- | --- | --- | --- | --- | --- | --- | --- | --- | --- | --- | --- |
| Reds (18-17) | 0 | 0 | 0 | 0 | 0 | 0 | 2 | 0 | 0 | 2 | 11 | 2 |
| Braves (23-14) | 0 | 1 | 4 | 1 | 0 | 0 | 0 | 0 | - | 6 | 12 | 0 |
W: Hudson (2-1) L: Cueto (4-1)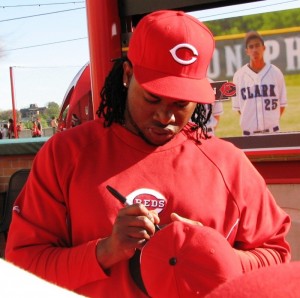 Well, that sucked.
Johnny Cueto turned in his worst start of the 2012 season for the Cincinnati Reds, lasting only 4 innings and allowing 6 runs–5 earned–while giving up 8 hits and 2 walks and striking out 2. His ERA ballooned to 1.89.
The offense turned in what you would expect from a Dusty Baker-led team: 2 runs. Those were driven in by Ryan Hanigan and Drew Stubbs in the 7th.
The Reds fell back to 1 game above .500, where I feel they will continue to flounder so long as Baker is the manager. Joey Votto can only hit so many walk-off grand slams. I'd really prefer they fired him now before too much more of the season is wasted.
The Reds split the short, 2-game series with the Atlanta Braves and fell 2.5 games behind the St. Louis Cardinals. Tomorrow, they travel to New York to take on the Mets at 7:10pm EDT. Mike Leake starts for the Reds, while the Mets counter with Johan Santana.