May 24, 2012
The fine folks over at Chris Sabo's Goggles have arranged for you to be the lucky recipient of one Team Latos shirt, if you can guess (in advance) the number of strike outs Latos will get in the month of June. From the blog post about the contest: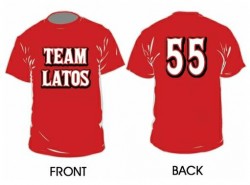 All you have to do is guess the number of strikeouts Latos will have in the month of June. This includes every start he makes between—and including—June 1 and June 30. The person closest to the actual total number of strikeouts wins the shirt.
I assume these are the strike outs Latos induces by way of pitching to batters, not the ones he personally commits at the plate. I mean, a contest that is apparently in honor of a guy probably does not really want to go out of its way to draw attention to his 12 strike outs in 18 plate appearances.
But that's not for me to say. You'll want to go over to Chris Sabo's Goggles personally to argue semantics and then put in your guess. By Independence Day, you too could be a member of Team Latos.