May 19, 2012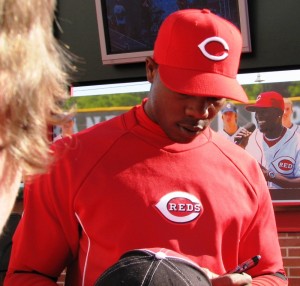 Apparently, the Cincinnati Reds' flame-throwing reliever who should be a starter Aroldis Chapman is being sued.
The suit, filed Friday in federal court in Miami, alleges that when Chapman was back in Cuba, he and his father worked with Cuban security forces and helped organize the arrest, imprisonment, and torture of another Cuban who lives in Florida. Chapman's alleged motive for cooperating: to be restored to the Cuban national team after a defection attempt. The suit charges that Chapman met with Cuban president Raul Castro to win quick reinstatement to the Cuban team and they concocted the plan that resulted in the arrest of the Florida man on a visit to Cuba in 2009.
When I first read this, I was confused. I am not a lawyer and I don't play one on TV, but the allegations aren't over things that were illegal in the country in which Chapman allegedly did them. I don't think an American can sue a Cuban for working with the Cuban president. Then I noticed it was not a criminal suit, but a civil one. And you can sue anyone for anything in civil court.
So Chapman apparently had a failed defection attempt before the successful one that saw him end up with the Reds. After that failed attempt, the suit alleges that Chapman ratted out Curbelo Danilo Garcia to get back onto the Cuban national baseball team. Garcia is in Cuba serving a 10-year prison sentence.
I've never seen this kind of accusation against a player before. So far, the Reds have no comment. We'll see if it affects Chapman's stellar pitching.
You can read a little more about the suit on the already linked Enquirer article and on NBC Sports Hardball Talk, which broke the story nationally.