May 2, 2012
| Team | 1 | 2 | 3 | 4 | 5 | 6 | 7 | 8 | 9 | R | H | E |
| --- | --- | --- | --- | --- | --- | --- | --- | --- | --- | --- | --- | --- |
| Cubs (9-15) | 0 | 1 | 0 | 1 | 0 | 1 | 0 | 0 | 0 | 3 | 10 | 0 |
| Reds (11-12) | 0 | 0 | 0 | 1 | 0 | 0 | 0 | 0 | 0 | 1 | 3 | 0 |
W: Samardzija (3-1) L: Arroyo (1-1) S: Marmol (2)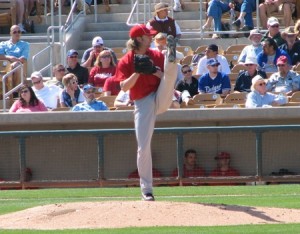 I apparently have lost the ability to enjoy baseball games that the Cincinnati Reds lose. Either that, or when the Reds lose–to the Chicago Cubs, of all teams–they play the most boring, uninspired baseball I've ever seen.
Hell, I'd rather be removing my old, leaky kitchen faucet than watching this game. Granted, the leak was causing issues in the basement ceiling and a bit more immediate of a concern than the baseball game. But you can bet I would've been checking the game more often had the Reds shown any life.
Bronson Arroyo started for the Reds and continued to perform well. So far, he's been the most surprising starting pitcher of the season, and in a good way. Arroyo turned in a quality start, going 6 innings and allowing 3 runs on 9 hits, 1 walk, and 3 strikeouts. He did allow a couple home runs, though, which did remind me too much of last year.
It almost didn't matter how good Arroyo pitched, though, as the Reds' offense didn't get the memo that today's game wasn't rained out. The only run they scored didn't even result in an RBI. With one out and Joey Votto on third base and Brandon Phillips on first, Jay Bruce hit a grounder to the first baseman. The first baseman tapped the bag to force Bruce and then threw to second to get Phillips tagged out. But Phillips forced a rundown for long enough for Votto to score.
And that was it. In total, the Reds managed 3 whole hits. The pitching was good again, and the bullpen turned in 3 shutout innings. But Dusty Baker better wake this team up or the team will have to find someone else to do it.