May 6, 2012
| Team | 1 | 2 | 3 | 4 | 5 | 6 | 7 | 8 | 9 | R | H | E |
| --- | --- | --- | --- | --- | --- | --- | --- | --- | --- | --- | --- | --- |
| Reds (14-13) | 1 | 1 | 2 | 0 | 1 | 0 | 0 | 0 | 0 | 5 | 10 | 2 |
| Pirates (12-16) | 0 | 0 | 0 | 0 | 0 | 0 | 0 | 0 | 0 | 0 | 3 | 2 |
W: Latos (2-2) L: Morton (1-3)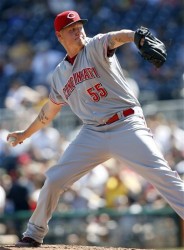 I guess Mat Latos really is a better pitcher in May than April.
In his first start in May, Latos, who is horrible, just horrible, in his career in April, had his best start as a Cincinnati Red. He struck out a career high 11 over the course of 6 innings, allowing no runs, 2 hits and 3 walks. Plus, he did all this while pitching with the dreaded flu-like symptoms.
"I was not feeling good at all this morning," he said. "I woke up throwing up. It wasn't pretty."

Latos was still feeling queasy when he took the mound. It didn't help that the first inning lasted a long time.

"I thought I was going to throw up a couple of times," Latos said.
Eww. That would've been gross. I do wonder if that's ever happened on a pitching mound in the middle of a game. That would certainly get you on SportsCenter.
The Reds' relievers have been lights out lately, having pitched 21 2/3 innings of scoreless baseball. They were no different today. After taking over for the ailing Latos after the 6th, they continued the shutout and preserved the win.
The offense was good, too, and got off to an early start. Joey Votto drove in Drew Stubbs in the first inning of the Pittsburgh Pirates' starter Charlie Morton. Todd Frazier, who must have been starting instead of Willie Harris due to a clerical error, hit a home run in the second to make it 2-0. And then Drew Stubbs made it 4-0 with a home run in the 3rd.
The win puts the Reds one game back over .500 at 14-13. They take the series with the Pirates and will head to Milwaukee to face the Brewers tomorrow. Bronson Arroyo will go for the Reds with Yavani Gallardo starting for the Brewers at 8:10pm EDT.