May 14, 2012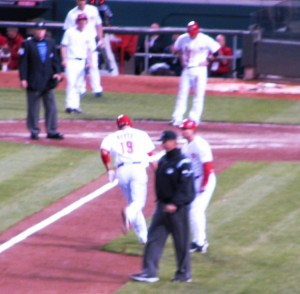 Joey Votto made history yesterday, and Cooperstown took notice. Though his three-homer performance against the Washington Nationals wasn't a first (heck, Votto has done it before himself), it was the first time one of those three home runs was a walk-off grand slam.
The Hall of Fame has requested the bat that so punished all those balls:
"It's an honor for the Hall of Fame to be interested in something of mine," Votto said. "It's a first for me, and I'm happy about it."
Though it was Mother's Day, it was a black bat that's going to the Hall, according to the story on Reds.com. On the pre-game show tonight, Votto was saying that it was a bat he was sad to part ways with, it being particularly well made, even among all the well-made bats Louisville Slugger provides.
In fact, Votto did go hitless tonight without that bat, though he was lacking many opportunities. The Braves walked him twice.