May 20, 2012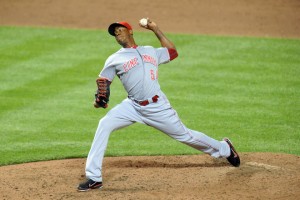 Cincinnati Reds pitcher Aroldis Chapman has been the definition of dominant so far this year. Over 21 innings, he has allowed 7 hits, walked 7, and struck out 38. Oh, yeah, and he's not allowed a run.
A guy displaying excellent command and unhittability who becomes a mere mortal when used on back-to-back days would seem perfect to slip into the starting rotation. Mike Leake and his 6.21 ERA are a no-brainer target. But that would mean that the Reds are starting to figure out what to do with Chapman. And everybody knows that they are bound and determined to screw this up and waste his time as a Red.
"He's been so good in the eighth," Baker said. "Like I said, you've got to graduate to that position. Who knows maybe graduation time is here? We're got to discuss it, talk about it. Matter of fact, we already talked to him about it."
I can only shake my head and laugh at the Reds. The team as a whole has 4 blown saves: 1 from Chapman himself, 1 from a guy who was probably injured in Bill Bray, 1 from the closer Sean Marshall, and one from Logan Ondrusek. Moving Chapman into the closer's role doesn't help the team in any significant way. The bullpen is already very good, and the step up from Marshall to Chapman pales in comparison to the step up from Leake to Chapman.
It's just stupefying how badly General Manager Walt Jocketty and manager Dusty Baker have handled Chapman. And clearly, the mishandling is going to continue.