May 21, 2012
Lance Berkman : the Cardinals :: Scott Rolen : the Reds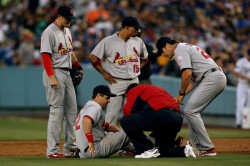 Both made a bigger name for themselves with a different NLC team, both are on the wrong side of 35, and both are now on the DL with mystery injuries to joints that have been giving them problems for a long time.
Berkman went on the DL yesterday after doing nothing in particular that looked like it would even smart, let alone take him out of the game. While playing first, he received a routine throw from the short stop and suddenly found himself hopping around on his left leg. Check out the video on the Cardinals' site.
The prognosis is not yet clear; he's supposed to have an MRI today. He's already had two surgeries on each knee, though, so he should be able to redeem his punch card for a free one this time around.