May 21, 2012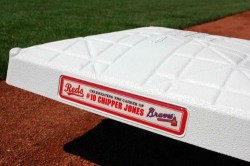 Atlanta Brave and generally awesome third baseman Chipper Jones has announced that this will be his final season before retirement. The Cincinnati Reds are recognizing this graceful departure, as well as the general awesomeness mentioned above, with a set of commemorative bases that will be used during the series with the Braves, starting tonight.
From the story on Cincinnati.com:
There is also a special ceremony scheduled for May 24th, before Thursday's game. Reds GM Walt Jocketty and Scott Rolen will participate in the ceremony as well.
You might point out that Chipper Jones doesn't have a whole heckuva lot to do with the Cincinnati Reds besides hitting 21 home runs off their pitching in his career, but I don't see why you wouldn't tip your hat to greatness when you have a chance. It's easy, it gives me something to write about, and it's just good karma.