May 31, 2012
The following press release is from Major League Baseball. Get out your SPF 15, everyone, it's going to be a long season.
BASEBALL HALL OF FAMER JOHNNY BENCH NAMED SPOKESPERSON FOR 2012 PLAY SUN SMART PROGRAM TO PROMOTE SKIN CANCER AWARENESS
Reds Legend Recently Had Basal Cell Carcinomas Removed From Eyelids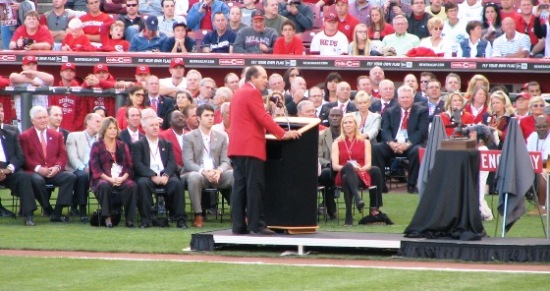 Baseball Hall of Famer and Cincinnati Reds legend Johnny Bench has been named the official spokesperson for the 2012 Play Sun Smart program, a joint effort by Major League Baseball (MLB), the Major League Baseball Players Association (MLBPA) and the American Academy of Dermatology (Academy). The goal of the Play Sun Smart program is to raise awareness of skin cancer and offer prevention and detection tips to the baseball community. As part of his duties, Bench will make an appearance at the MLB Fan Cave in New York on Saturday, June 2nd with kids from Harlem RBI, a program of Major League Baseball's Reviving Baseball in Inner Cities (RBI) initiative. He will also participate in a pre-game ceremony on Sunday, June 3rd at AT&T Park, the home of the San Francisco Giants.
Bench was recently diagnosed with and treated for basal cell carcinoma, the most common form of skin cancer, on both of his lower eyelids. With a unique skin cancer surgery called Mohs surgery, he has had a full recovery and is now committed to raising skin cancer awareness. While basal cell carcinoma is not considered life-threatening, it can be significantly disfiguring if left untreated. Other types of skin cancer can be life-threatening.
"When Major League Baseball approached me about spreading the word about the Play Sun Smart program, I was thrilled to have the opportunity to participate in a program that enlightens so many people about skin cancer issues and prevention," said Bench. "I recently learned the hard way from my own personal experience about the many ways you can prevent skin cancer, and I am eager to inform fans and players alike about how they can keep themselves and their loved ones safe. I thank Commissioner Selig, the Players Association and the American Academy of Dermatology for this terrific joint program that educates and raises awareness about skin cancer issues."
This year, MLB players, coaches and staff from all 30 Clubs will serve as role models for their fans by participating in skin cancer screenings through the Play Sun Smart program and practicing sun-safe behaviors throughout the season. Since 1999, Academy dermatologists have conducted more than 29,000 skin cancer screenings through this program. Just like players and Club employees, fans are asked to practice safe sun behaviors and to find a free skin cancer screening in their area by visiting the Academy's website at www.SpotSkinCancer.org.
"The Academy wants all baseball fans to know that they can easily reduce their risk of skin cancer while continuing to cheer on their favorite team at the ballpark," said board-certified dermatologist Thomas E. Rohrer, MD, chairperson of the Academy's Sports Committee. "There are three simple steps you can take: seek shade, cover up, and wear sunscreen."
As in Bench's case, early detection of skin cancer is essential. Fans can spot skin cancer early by regularly looking over their entire bodies, including the back, scalp, soles, between the toes and on the palms. If there are any changes in the size, color, shape or texture of a mole, if a new mole develops or any other unusual changes in the skin occur, fans are encouraged to make an appointment to see their dermatologist immediately. For more information about sun safety and the Play Sun Smart program, please visit MLBCommunity.org.
The Play Sun Smart awareness program is one of several cancer-related initiatives supported by Major League Baseball. Other initiatives include Stand Up To Cancer (SU2C), whose mission is to support groundbreaking scientific research aimed at getting new cancer treatments to patients quickly; the Mother's Day Going to Bat Against Breast Cancer initiative, which is a joint partnership with Susan G. Komen for the Cure, the world's largest breast cancer organization, to help increase awareness of breast cancer and raise money towards the search for a cure; and the Prostate Cancer Foundation Home Run Challenge which helps increase awareness of prostate cancer and raise money for the search for a cure as part of the Major League Baseball Father's Day celebration. To learn more about Major League Baseball's charitable initiatives please visit MLBCommunity.org or follow on twitter @MLBCommunity.
About: American Academy of Dermatology
The American Academy of Dermatology (Academy), founded in 1938, is the largest, most influential, and most representative of all dermatologic associations. With a membership of more than 17,000 physicians worldwide, the Academy is committed to: advancing the diagnosis and medical, surgical, and cosmetic treatment of the skin, hair and nails; advocating high standards in clinical practice, education, and research in dermatology; and supporting and enhancing patient care for a lifetime of healthier skin. For more information, contact the Academy at (888) 462-DERM (3376) or www.SpotSkinCancer.org. Follow the Academy on Facebook (American Academy of Dermatology) or Twitter (@AADskin).