May 31, 2012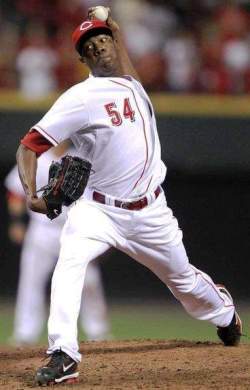 First there's a Cuban guy bringing a civil suit against Aroldis Chapman for allegedly conspiring with the Cuban government.
Then there's the arrest for speeding like a maniac on an already suspended license.
And don't even get me started on Dusty's refusal to make him a starter.
Now there's another item to list in the tribulations of Chapman: his Pittsburgh hotel room was robbed–with his girlfriend in it–last night.
Here's what I can piece together: the girlfriend is alone in the hotel room at 10 p.m. when a man knocks on the door, claiming to be there to fix the toilet. She opens the door and the guy demands her valuables. When she doesn't just hand them over, he ties her up and makes off with jewelry, computer equipment, tiny soaps, and whatever else he can take off with.
There's an ongoing investigation, but for the moment it seems like no one was hurt. So there's that at least.
You do have to wonder whether maybe the team should bring on a counselor for Chapman, though. I would think all these freaky bad things happening to him have got to be getting overwhelming, though I guess his performance hasn't showed it at all.