March 31, 2007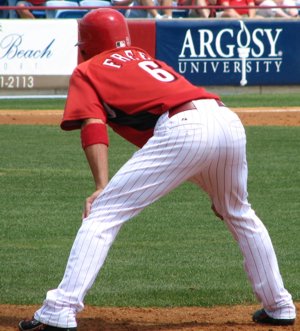 The regulars were out of the game earlier than usual, but got the job done before they left in this 0-5 win over the Tampa Bay Devil Rays on Friday.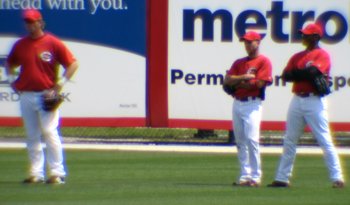 Matt Belise got the start, or rather, the first start of the game. His line isn't so hot for just two and two thirds innings, allowing three runs (two earned) and a walk on five hits. But he did strike out four, including the batter immediately prior to his being pulled. The crowd was a mite confused.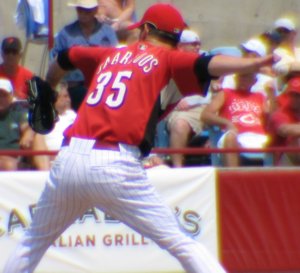 But in came in Kirk Saarloos, who perhaps was getting an audition. His line looks better: zero runs on one hit in two and a third. To be fair, though, the further you get into a spring training game, the easier it is.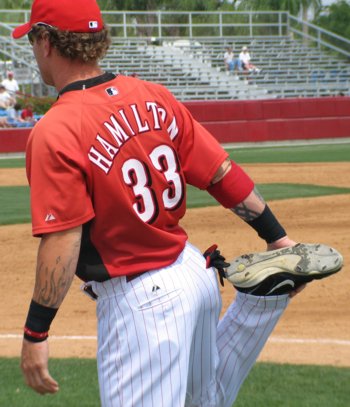 Rheal Cormier, David Weathers, Mike Stanton, and Jared Burton also each got an inning apiece. Cormier was the only one to allow a run. Honestly, is he trying to hurt his trade value?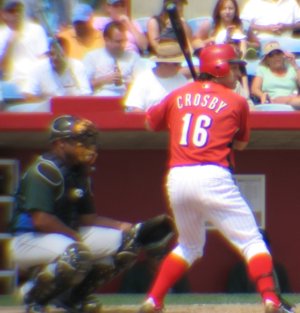 The first inning was fun. Even when the Reds have won these spring training games, it doesn't feel like they've strung together a lot of offense consecutively. John Fay has an odd take on the inning:
Ryan Freel singled. Adam Dunn popped out bunting (maybe the No. 2 spot is going to his head). Brandon Phillips singled. Ken Griffey Jr. singled in Freel. Juan Castro, in the lineup because Edwin Encarnación is sick, doubled in Phillips and Griffey. Scott Hatteburg doubled in Castro. Alex Gonzalez singled in Hatteberg. Chad Moeller then mercifully ended the inning by grounding into a double play.
"Mercifully"?? The Reds were doing well! How jaded to you have to be to this game to complain about this inning? Oh, please stop the bleeding! I just can't take any more scoring by my own team!!
I guess that's why he's a reporter and not a fan.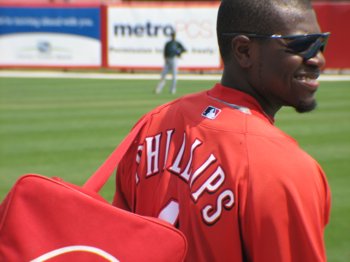 Personally, I thought it was great. It's always nice to see the Reds walk away with a victory. The win brings the Reds' spring training record to 18-10. They'll play the Florida Marlins today in Dayton at 2 pm.