June 5, 2012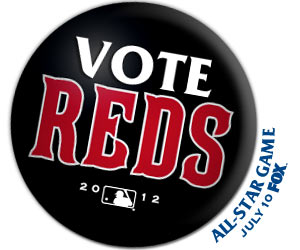 Early tallies are out for the National League All-Star voting, and it shouldn't be any surprise that Joey Votto is at the top of the heap. Even if there weren't a sudden vacuum of first basemen in the NL, Votto blow 'em all out of the water anyway.
Brandon Phillips, though also obviously the best in the NL at his position, is behind Dan Uggla. Surely we can do something about that. Jay Bruce has the disadvantage of being lumped in the all-encompassing "outfield" category, but he still ought to be higher than ninth.
Add your voice! You can vote up to 25 times per email address by going to the MLB website. And don't forget to stuff the ballot boxes when you go to the park.
Tallies as of June 5, 2012:
FIRST BASE
Joey Votto, Reds: 1,314,516
Lance Berkman, Cardinals: 634,473
Freddie Freeman, Braves: 576,255
Bryan LaHair, Cubs: 391,497
Adam LaRoche, Nationals: 331,772
SECOND BASE
Dan Uggla, Braves: 872,136
Brandon Phillips, Reds: 586,835
Omar Infante, Marlins: 512,049
Rickie Weeks, Brewers: 512,021
Jose Altuve, Astros: 472,292
OUTFIELDERS
Matt Kemp, Dodgers: 1,952,910
Carlos Beltran, Cardinals: 1,212,030
Ryan Braun, Brewers: 1,112,971
Andre Ethier, Dodgers: 827,262
Melky Cabrera, Giants: 714,642
Matt Holliday, Cardinals: 667,544
Jason Heyward, Braves: 515,340
Michael Bourn, Braves: 498,070
Jay Bruce, Reds: 460,853
Andrew McCutchen, Pirates: 457,223
Hunter Pence, Phillies: 446,460
Corey Hart, Brewers: 417,929
Carlos Gonzalez, Rockies: 386,860
Jon Jay, Cardinals: 373,833
Shane Victorino, Phillies: 373,034
To see the tallies for the other positions, you can go to this story on MLB.com and scroll all the way to the bottom.