January 26, 2006
The Cincinnati Reds caravan made its first stop tonight at Pinheads in Indianapolis. The event was hosted by WNDE Sports Radio and covered by WISH-TV 8 and WRTV-6. The joint was jumpin' with standing room only and people willing to wait in the autograph line through the entire Q&A period.
I arrived about 35 minutes early, so I had gotten my free sticker, entered my name in the drawing for the opening day tickets, and found a seat in the second row before most fans had found their way down the winding path to the Pinheads parking lot.
I sat there, chatting with the guy sitting next to me (apparently there is a farm near Connersville whose claim to fame is being the exact midpoint between Cincinnati and Indianapolis) and being available for someone to come ask for their free copy of Funnyball. But no one claimed the book, so I guess I'll just keep it nearby for the next time I need paper for origami or something to wedge under a wobbly table leg.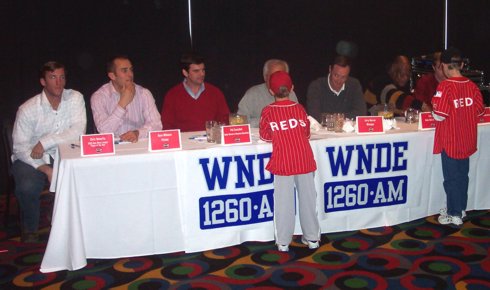 Finally the program was underway. Hall of Fame announcer Marty Brennaman gave a short introduction of the panelists, pictured here. From left to right they are Chris Denorfia, Dave Williams, Phil Castellini, Marty Brennaman, Jerry Narron, Lee May, and Steve Stewart. Jerry Narron had a short statement about how excited he is to work with the new management and about the potential of Wily Mo Peña and Austin Kearns getting regular playing time, and before we knew it, the floor was open for the Q&A.
Apparently the crowd was not ready for the Q&A, because the queue failed to form. Since I had prepared questions, I leapt up to the microphone to be the very first person in line. My first question was for Mr. Denorfia:

RHM: With Adam Dunn moving to first base and rumors swirling about trading Austin Kearns, how do you feel about your chances for becoming Cincinnati's next big outfield heartthrob?

::crowd laughter and general embarrassment from Denorfia::

CD: You know, this would be the first question I got. I thought I might sneak out of here, but I got this question right away. I'm really looking forward to making it very hard on these guys this year. I'm really going to try to press as hard as I can the guys that are in place and I'm just looking to get an opportunity. That's all I can do and that's what I'm looking forward to and I'm really excited.