January 27, 2006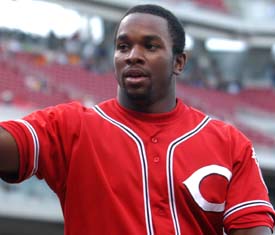 Via ESPN.
Reginald Riddle, one of two men charged with the kidnapping and murder of Reds' prospect Dernell Stenson in 2003, plead guilty to first-degree murder charges today. By pleading guilty and agreeing to testify in the trial of co-defendant David Griffith, Riddle avoided a possible death sentence.
Riddle and allegedly Griffith kidnapped Stenson, stole his SUV, and shot him to death when he tried to get away. Riddle faces 25 years to life in prison. Griffith still faces capital murder charges.
On a personal note, I was not fully indoctrinated into the Reds culture when this tragedy took place, but it stands out in the memory of my mind and heart. And I'm not the only one; when I mentioned Stenson before, RHM got some of her most impassioned comments ever.
It's not that I think convictions will make it all better or anything. But it will be nice to have this part of the process in the past.