January 8, 2006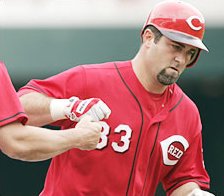 A long day of sitting in front of the computer, reloading Mr. Lancaster's blog has finally yielded the tidbit we've all been waiting for:
Rich Aurilia will be back with the Reds this season. He agreed tonight to a one-year, $1.3 million deal that also carries a mutual option for 2007 at $2 million. Not sure about a buyout.

That's a pretty good rate for the Reds, considering the market. Now we'll see if the roster stays put or this is a precursor to another deal.
I'm mildly surprised that Aurilia landed with the Reds again. When the Cardinals snapped up Junior Spivey for $1.2 million, it seemed like the market might have been stronger for Aurilia. Plus, the Reds infield is getting awfully crowded.
But I'm not complaining. I like Aurilia. And with Ryan Freel's shenanigans early this morning, the Reds might be glad to have the additional flexibility.