May 16, 2012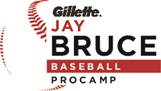 Cincinnati, OH—Don't miss out—the 2012 Gillette Jay Bruce Baseball ProCamp in partnership with Heinz presented by Fifth Third Bank and CBTS is coming up soon!
The two-day event is July 16th-17th from 8:30AM-12:30PM at Sycamore High School in Cincinnati.
Bruce will be on site the entire camp to direct activities and provide instruction. He will be joined by a selection of the top prep and collegiate coaches from the Cincinnati area.
The camp is open to boys and girls ages 6 to 14 and focuses on the team concept and fundamentals of baseball. Groups will be small to ensure that each camper receives personalized instruction. Bruce will also give daily talks highlighting the finer points of the game of baseball and beyond.
Each camper receives an autographed camp team photo with Bruce, exclusive camp T-shirt, goodie bag with over $80 worth of merchandise and the opportunity to win additional prizes. Cost of the ProCamp is $174.
Additional camp partners include The Christ Hospital, Champion Windows, The Cincinnati Reds Hall of Fame, FS Ohio, 700 WLW and The Cincinnati Enquirer.
For more information and registration, please visit www.JayBruceCamp.com or call 888-389-CAMP (2267).