May 22, 2012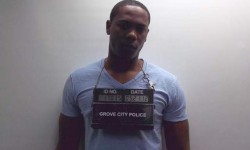 Apparently, Cincinnati Reds pitcher Aroldis Chapman can't drive 55.
Police said Chapman, 24, was pulled over for speeding in a black 2010 Mercedes S63 on Interstate 71 North near Interstate 270 at about 12:42 a.m.

Chapman was arrested after the officer discovered he had a suspended Kentucky driver's license, according to a police report.
Chapman was released on bond and has a court date scheduled for June 6. He has already discussed his situation with the Reds, including general manager Walt Jocketty and manager Dusty Baker.
It may feel like it's been a while since the Reds have had a player arrested, but the most recent one was just last year on April 17, 200 when Mike Leake was arrested for shoplifting. Along with Leake, Chapman joins the illustrious ranks of former arrested Reds Daniel Ray Herrera, Brian "Love" Shackleford, and Ryan "Farney" Freel who gave us two wonderful mug shots.